Complimentary Speed Stacks Set
Please note:
A Complimentary Set is provided to US and Canadian schools to help determine if they would like to start a new sport stacking program for the entire school. It is not intended for individual classroom use. Limit 1 per school.
Spotlight: Doug Baker - PE Teacher
Complimentary Set
If you're a PE instructor with a qualifying school and are interested in starting a new sport stacking program, complete this form to request a complimentary set of Speed Stacks.
To see if your organization qualifies for a complimetary set please contact Customer Relations at 1-877-468-2877 ext 1.
Once your information is verified, we will send you: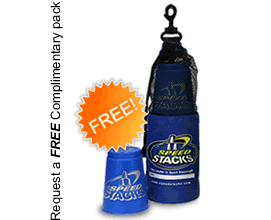 1 Speed Stacks Set (12 cups)
Instructional materials