The Cycle (Part 2) Lesson 4
Objectives:
Learn the 1-10-1 and transition to the 3-6-3


(National PE Standards 1 & 2)

Demonstrate stacking the complete Cycle Stack from start to finish


(National PE Standards 1 & 5)

Participate in a sport stacking fitness activity


(National PE Standards 3 & 5)
Equipment:
1 set of Speed Stacks for every stacker
1 banquet-style table to lead instruction
Instructor Preparation:
Watch the Cycle Instructional Video

Know how to stack the second half of the Cycle.
1-10-1 to 3-6-3.
Understand the mirror technique for easy class follow along.

Choose a lesson activity or activities:

Watch the activity video.
Read the instructions.

Put it all together (3-6-3 to 6-6 to 1-10-1 to 3-6-3).
Warm Up: (5 minutes)
Review the 3-6-3 to 6-6 and the two transitions with Stackers and Blasters.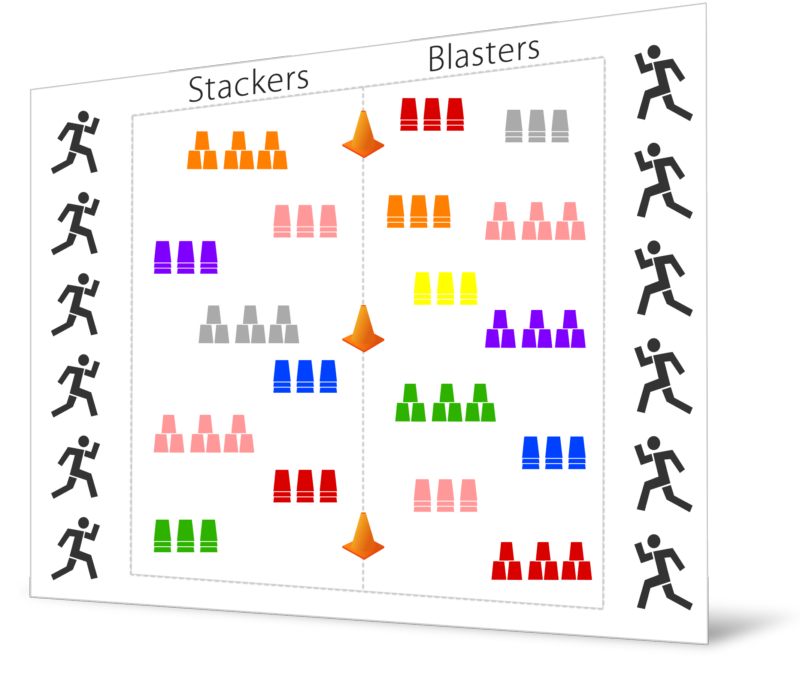 Fun movement activity thatfocuses on exercise andfundamental stacking skills
Teach: (10 minutes)
Upstacking the 1-10-1
Demonstrate the 1-10-1 (column of 12 to 1-10-1 to downstacked 3-6-3).
Begin with a 12-cup column. Pick up the top two cups, one in each hand.
Turn one cup (180°) palm out and place both cups down. Practice several times.
Upstack using the 5-4-1 method. Dominant hand takes five cups, non-dominant hand takes four cups, one cup is left behind.
Dominant hand leads by placing one cup next to the remaining cup, non-dominant hand follows by placing one cup on the other side. Form a base of 4 cups this way.
Drop one cup on the center of the base and alternate hands completing the 10-Stack.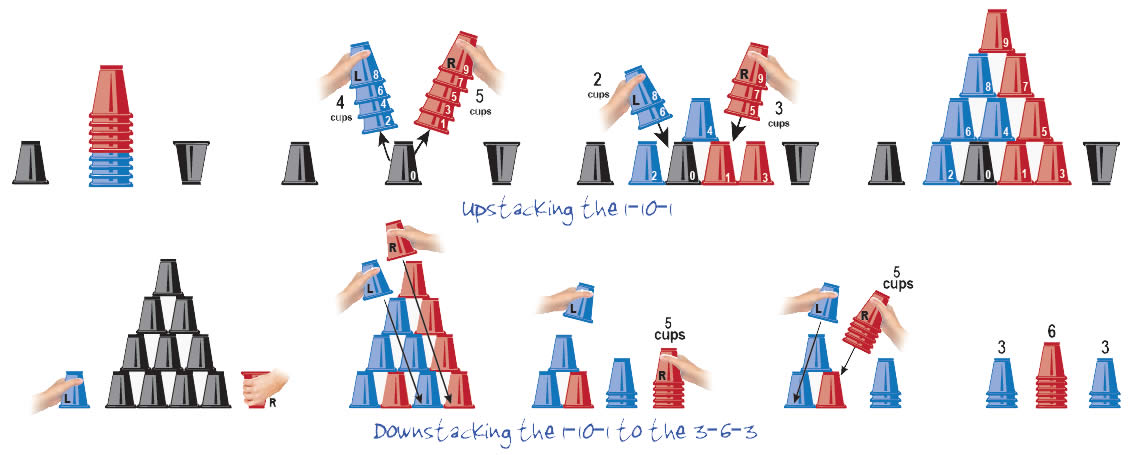 Downstacking the 1-10-1
Demonstrate the downstack showing the 'X' formation.
Pick up the two single cups with the same hand positions used to set them down and raise above the 10-Stack.
Slide the cups in your hand down diagonally, leading with your dominant hand, following with your non-dominant hand.
Your dominant hand keeps five cups and your non-dominant hand keeps one cup (releasing three).
Your non-dominant hand now leads and slides the cup in your hand down over the remaining two outer cups. Your dominant hand follows and places five cups over the remaining center cup, ending in a downstacked 3-6-3.

Table Stacking
Round up standard banquet tables or go to the cafeteria. They've learned the basics of stacking, now it's time they perfect their skills on table tops.
Set tables in rows (2-4 stackers per table).
Walk around and watch for proper technique.
Introduce the StackMat and rotate stackers for individual timing opportunities.
Fitness Activities: (15 minutes)
Activities are designed to offer movement, integrate new skills, and reinforce sport stacking techniques. Depending on available time, these can be repeated or combined. Use the suggested activities below or choose from the complete activity list. (page 18)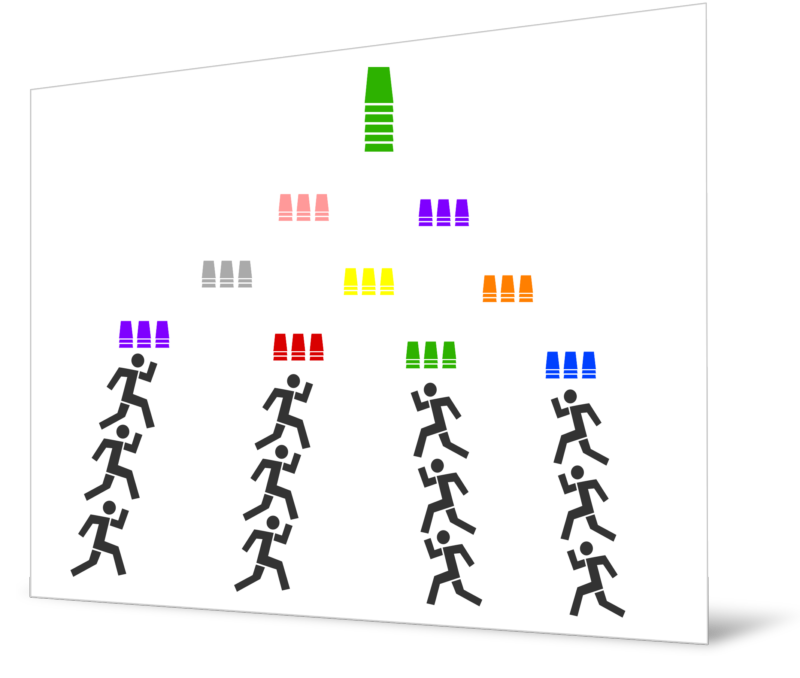 Strategy and fitness activity thatadds a competitive element to stacking
The Group Order
Now is a good time to remind your stackers about your school GO. Remind them and their parents about your GO deadline so they can complete their order selections. Remember, by promoting your GO, more stackers can be active at home and your program can earn more equipment (10% of the total order). Your stackers save 25% and your program benefits! Everyone wins! Make sure you are monitoring your GO progress online.