The Sport Pack

Starting a sport stacking program is easy. A Speed Stacks Sport Pack provides everything you need for a successful sport stacking program with enough equipment for your entire class to participate at once. Sport Packs include everything you see here, plus step by step instructions on how to teach your students the proper skills to be successful. Also included is our Instructor Guide featuring in depth Lessons and Activities with access to online video and resources.
How to Get a Sport Pack
Borrow one for FREE* The Loaner Program is perfect for a school/organization that does not have the funds to purchase a Sport Pack.
Apply for a Grant During the September through June school year, Speed Stacks will be awarding one FREE Sport Pack per month to deserving grant applicants (one Sport Pack/organization).
Purchase a Sport Pack Get the best price on a Sport Pack by buying direct through our Instructor Store.
Instructor Guide
Each Sport Pack comes with the printed Instructor Guide which includes lessons, activities, competition and timing instruction to help you teach a complete sport stacking program. You are also given access to our Online Resources where you can use a computer, tablet or phone to view the 4 lesson and 15 activity videos. Additional resources and easy printing of the Instructor Guide material is also available. Learn more about the Instructor Guide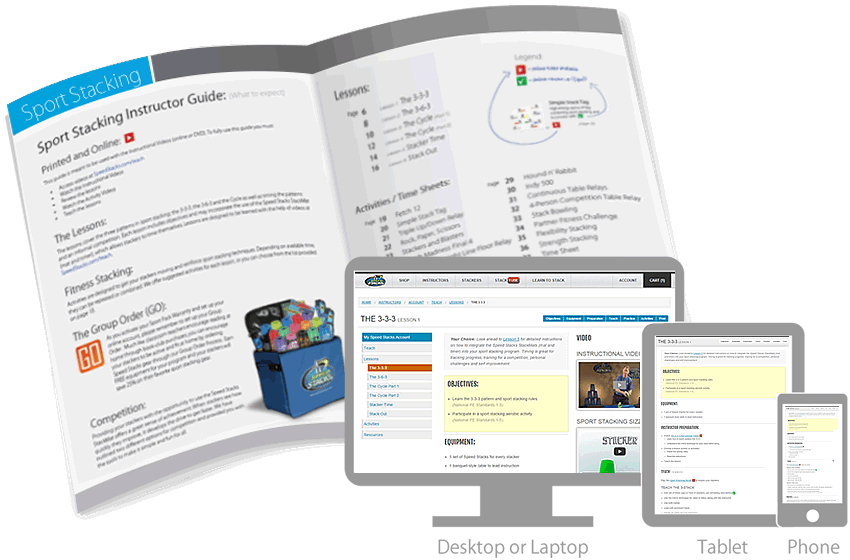 Online Video & Resources
All our Equipment
Speed Stacks has more equipment to offer your program, from individual sets to our fun JUMBOS, fitness Stack Spots and more... We offer Instructors like you discounts on our equipment through our Instructor Store so you can have everything you need for a dynamic program. We also offer the Group Order that will allow you to earn Bonus Bucks to use in our store.